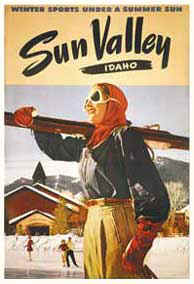 The Historic 1936 Sun Valley Lodge Is Open But Not Everyone Is Pleased With The Results.
There is no question that the Lodge was probably in need of upgrading of the water and electrical system and certainly internet wiring needed to be added. But the remodeling went much further. Much was lost in the process.
Many locals have indicated displeasure at the destruction of the fabulous Lodge Dining Room (LDR). The entire end of the Lodge which housed the LDR, was totally removed to make way for a luxury spa.
Of the ten reasons why people have a vacation home in Sun Valley or visit the area for a vacation, visiting a luxury spa is not even in the top ten. The former Lodge HAD a spa that was very nice and served those who were interested. Not only was the fabulous Lodge Dinning Room lost, but the dance floor in the Duchin Room lounge is no longer.
Maybe the somewhat cold and slick new Lodge will in the end turn out to be financially a good move. Time will tell. However the loss of the LDR and the evening dancing in the Duchin Room remove two of the top ten reasons why people purchased vacation homes in Sun Valley. At this point, Carol Holding has made a huge mistake in what she allowed to be done to the former, classic Sun Valley Lodge. Everyone doubts that if Earl Holding was still living, he would never allowed the classic aspects to the Lodge to be removed.
Previous posts from Sun Valley, click on FULL STORY
---
Rent a house now and enjoy Sun Valley.
Click on the picture below for pictures of the house and information.

The best event this summer in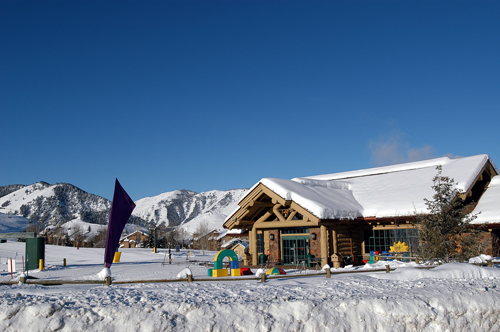 Sun Valley is the Killebrew-Thompson Golf Tournament. It begins Wednesday August 19th for registration.
Even when he knew he was dying of leukemia, Danny Thompson wanted only one thing: To be judged as a baseball player, not as a victim of an incurable illness. Now, thanks to one of its founders, Harmon Killebrew, who judged him outstanding as a man, the Killebrew-Thompson is fighting back against the cancers that killed them both.
Thompson was a big league shortstop. Big league in every sense of the word. He played the tough position for the Minnesota Twins during the first half of the 1970s, and he kept on playing it after he learned, in the spring of 1974, that he had leukemia. Doctors at the Mayo Clinic and the University of Minnesota medical school attempted to hold the illness under control. Danny became the second person in history to take a series of experimental injections to partially immunize him against the illness.
He continued to play baseball. During the 1975 season he led all American League shortstops in batting average and played well enough that he had hopes of making the All-Star team. Danny passed away in December 1976, leaving a wife, two daughters, a commendable major league playing record, and a former teammate who didn't want Danny Thompson's life, and death, to go unnoticed.
That teammate was Harmon Killebrew, the 20-year veteran who spent most of his career with Minnesota and stands fifth on the all time list of home run sluggers. When Danny died, Harmon promptly wrote out a $6,000 check for leukemia research. But he didn't think that was enough.
Killebrew retired from baseball after the 1975 season and went into the estate planning and insurance business with former Idaho Congressman Ralph Harding. Until they went into business together they didn't know each other and had little in common—a Democrat and a Republican, a politician and a ballplayer, and Harding knew little about baseball. Killebrew hasn't let him forget the day he asked, "Who's Nolan Ryan?"
But Ralph went east each year to play in the Vince Lombardi Memorial Golf Tournament, which raises money for cancer research, and when Harmon sat down one day, he told Ralph about Danny Thompson, and said, "I wish I could do something in his memory." Ralph had the idea: A golf tournament to raise money for the fight against leukemia.
So they scheduled it at Sun Valley, which has two 18-hole golf courses (Sun Valley and Elkhorn) designed by Robert Trent Jones, and they went to work to promote it.
The arrangements could not have gone better. Harding used his political contacts to bring to Idaho the nation's best-known amateur golfer: Gerald Ford. "I love to play golf," Ford said. "And it's a good cause." Ford's opening-round foursome included the late Speaker of the House Thomas "Tip" O'Neill of Massachusetts. Killebrew went to the baseball world. Mickey Mantle and his son flew up from Dallas with Brad Corbett, owner of the Texas Rangers. Jim Lemon and Bob Allison showed up. The tournament itself turned out to be a rousingly happy occasion.
In 2006, Founder Ralph Harding passed. And in the tournament's 35th year Harmon Killebrew, founder and friend, was lost to esophageal cancer. In dedication to his memory, the Board of Directors changed the name to the Killebrew-Thompson Memorial Golf Tournament.
Harmon was truly a gifted man. He not only was one of the greatest baseball players of all time, but he had a knack for creating memories for the millions of people he met along the way. And now, those teammates and friends to one another more than thirty years ago are joining their names together for the fight to eradicate cancer's horrible diseases. (Courtesy Killebrew-Thompson)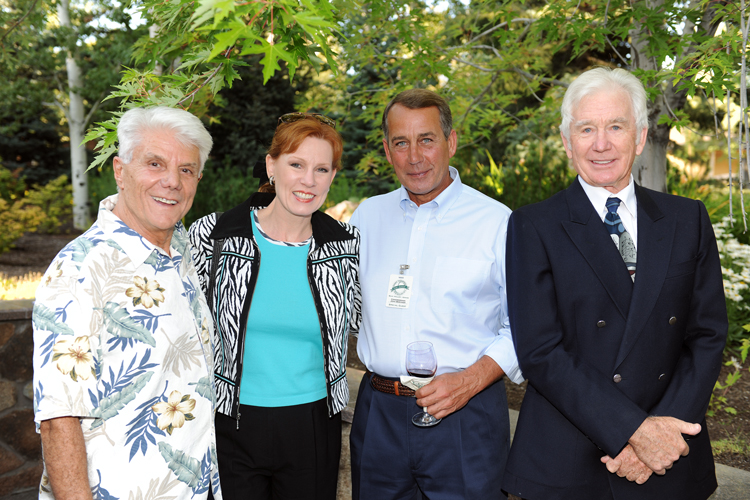 Speaker of the US House, John Boehner, chats with celebs in Sun Valley regarding recent legislation. Left, Frankie Randall, Melinda Read, Speaker Boehner and Allen Pennay. July 2009.
---
August brings out the celebrities in Sun Valley. Left, Nancy Kerrigan, who stars in this week's ice show, Frankie Randall, recording artist and nationally acclaimed vocalist, and Melinda Read, host of the celebrity interview talk show, Talk of the Desert from Palm Springs, California.
---
Joe Foss and Frankie Randall in the Duchin Room at the Sun Valley Lodge.
Allen & Company A commentary and an idea for next year. Click HERE
---
Is Live Music On The Way Out At Sun Valley?
Previously there was a trio that played for dinner and dancing in the Lodge Dinning Room. Now, the LGD has been totally destroyed.
Previously Joe Fos (pictured above with the late Las Vegas entertainer Frankie Randall) played the piano as his trio performed in the Duchin Lounge nightly. Now, Joe is playing the piano only Thursday, Friday, and Saturday at the Sun Valley Golf Club through August 23rd.
Larry Harshbarger is still playing the piano at the Ram Restaurant Wednesday through Sunday from 6 to 9:30pm but only through the month of July.
Sun Valley Needs Quality Entertainment. Full Story
---
Joe Maccarillo passed in his sleep at his long time home in Hailey.
---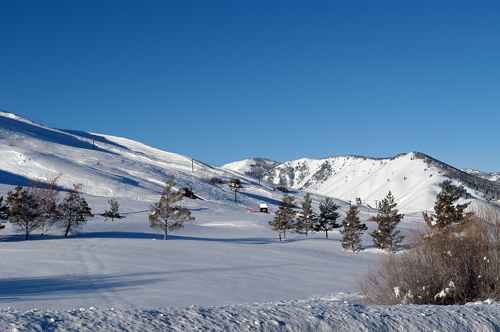 Your comments are always welcome.
Email the Sun Valley News Bureau at
---